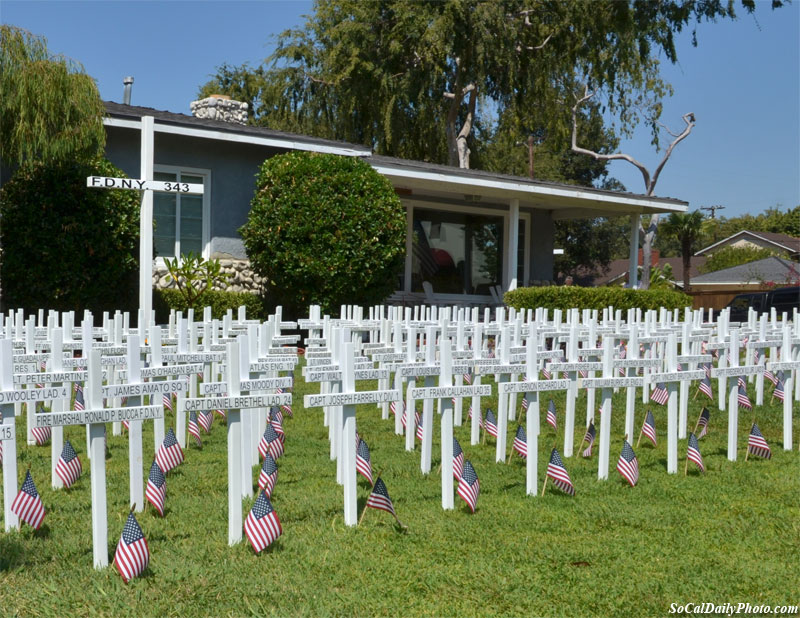 9/11 Memorial Tribute in Fullerton
Today marks the 10 year anniversary of what we all have come to know as "9/11", the terrible tragedy that occurred when hijacked planes crashed into the New York Twin Towers, the Pentagon and a fourth plane into a meadow in Shanksville, Pennsylvania. It was a very dark day in American history, but also a day where the American spirit and bravery was most evident. The NYPD Firefighters along with the Port Authority officers risked their lives to save others, sadly many paid the ultimate price when the Twin Towers collapsed.
Scott Townley, a local firefighter living in Fullerton, dedicated 11 months this past year in creating individual crosses with names of all the firefighters and officers who perished on that day. Plus a large cross with all the civilian names who lost their lives on 9/11. He set up his tribute on his front lawn earlier in the week and will have it up all day today, Sunday 9/11/11. If you would like to see it, it's located at Woods Avenue and Fern Drive in Fullerton.
I stopped by on Friday and spent a few minutes reading the names and reflecting on what happened that day. It brought back memories. On the morning of the 9/11/01, I was getting ready for work while watching all the terrible events on TV. At the time I worked for a newspaper in downtown LA and knew I had to go in. The drive into Downtown was quiet and empty, it felt more like an early Sunday morning rather than a weekday. It was evident that most people were concerned and didn't want to be in downtown LA. At my company, it seemed half the employees did not come in, the few of us that did spent most of the day viewing a live feed of the events in NY on our laptops.
That day, the scenes that stand out the most to me are the Firefighters that were at the base of the Twin Towers helping people out, then the sounds of the emergency sirens each Firefighter has on to alert others they are not moving or are hurt, which were going off after the buildings collapsed. I thought of those images for many months. As the years went on, it seemed some of those memories came less frequently.
Thank you Mr. Townley for this tribute to all the innocent people and Heroes who perished on 9/11, may we (I) never forget.