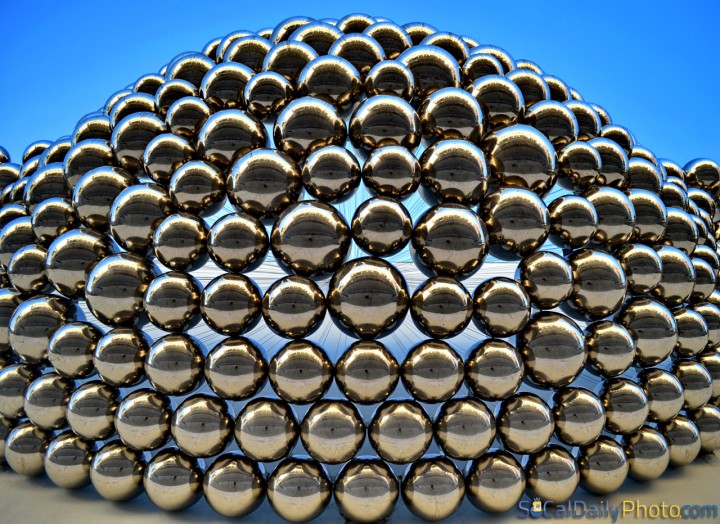 Ball-Nogues' Cradle located at exterior wall of the Santa Monica Place Shopping Center
Next time you're headed into the parking structure at the Santa Monica Place Shopping Center on 4th St, look up and you'll see this cool piece of art by Ball-Nogues called Cradle.
I've driven by it many times and it's a large piece so I know you can't miss it. But most people see it from a normal perspective, straight on as they drive by. Because it's so large, the photos I've seen of it are all from far away showing the silver balls hanging from the side of the parking structure.
I wanted to capture it from a different angle. Using my new Nikon D5100 I stood underneath it and using the articulating screen was able to capture it on "live view" pointing upwards. If you right click and open the image on a new tab, you just might see my reflection on the silver balls. The bottom of the photo is the wall and the top is the blue sky.
Sometimes by seeing things in a different perspective, we gather a new appreciation as we did when we first encountered it. Take some time today to appreciate the beauty around your city, it might just make your day a little more enjoyable!
Not sure where its at exactly? See it here on Google Maps!