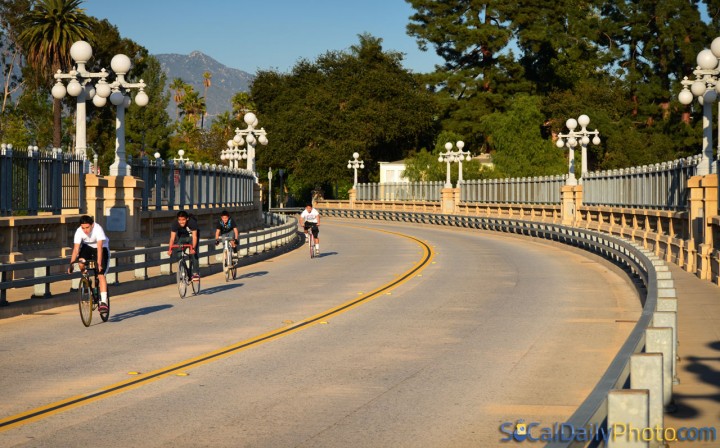 Colorado Street Bridge in Pasadena – 100 years old
The work day was coming to an end and I was near the historic Colorado Street Bridge in Pasadena. I stopped near by and took out my camera for a few impromptu photos.
According to the plaque on the bridge, it was built in 1913, yup…100 years ago. Unlike newer bridges, this one has character. Not very long, only 1,486 feet. It spans over the Arroyo Seco (dry creek), but this deck arch bridge has beautiful Beaux Arts arches and very cool light poles and railings.
I'm not sure how tall it is, but trust me, it's tall enough. So much so that this bridge is nicknamed "suicide bridge" or "666 bridge". Sad I know. They added a suicide barrier, but every once in a while it still gets shut down as police try and talk someone out of jumping from it.
This too is probably why some people say it's haunted. Apparently in the early years, before the suicide barrier was constructed, there were many people who jumped from this bridge. So I can see why some feel it was haunted, but when I was there, nope…no ghosts!
So much for the negative side of this bridge, on the positive side it's really a great bridge to get that old style feeling. Especially if you're filming a movie or doing a photo shoot. It's not uncommon to see either of them happening here.
As for the photo above, they were a group of kids riding along while I was taking a few shots of the bridge. Although we normally only post one photo, today I added a few more below of the Colorado Street Bridge. Continue reading Colorado Street Bridge in Pasadena is now 100 years old!