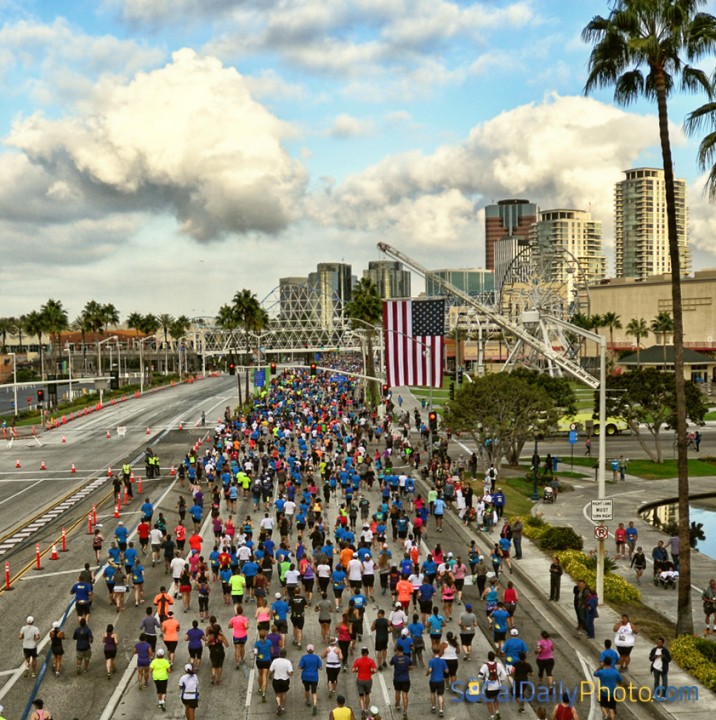 View of the runners at the Long Beach Marathon and Half Marathon
Earlier today, 20+ thousand runners and bike riders participated in the Long Beach Marathon & Half Marathon (they also had a 20 mile bike ride option). I was there to support my wife who ran her first half marathon at a respectable time of 1 hour and 59 minutes.
While she was passing up runners left and right, I was out taking photos of the event. The view above was taken from the overpass that extends from the Rainbow Harbor to the Long Beach Convention Center. The local fire department hung a giant American Flag near the path of the runners, which created a nice setup for a photo.
It's not uncommon to see celebrities or other well known people run in these events, today was no exception. While walking along the course, somewhere around mile 6, I noticed someone who is well known in the tabloid media, it was Nadya Suleman, otherwise known as the Octomom. She was running in the pack and later I noticed her at the finish line.
She kept her head down, as to avert making eye contact with anyone. Probably so they wouldn't recognize her.
Overall, it was a fun morning and event.