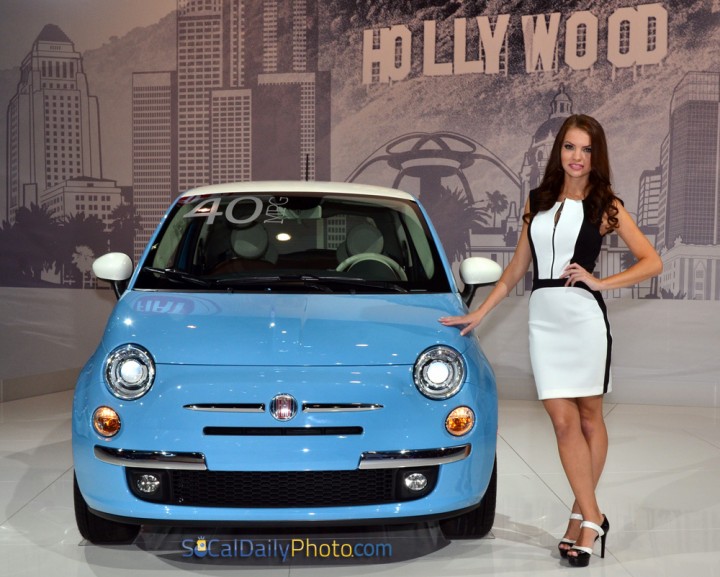 Samantha Skowronek with the 2014 Fiat 500 '57 Edition at 2013 LA Auto Show
The 2013 LA Auto Show is in full swing this week and one of the highlights is the new 2014 Fiat 500, a 1957 retro edition. As always, the Fiat viewing area was unique. This year the featured vehicle had a backdrop that included the Hollywood sign, downtown LA skyline, City Hall and LAX. Overall it made for a pretty good promotional photo setting.
No, I don't work for Fiat, but I did admire the setup. The presentation was well thought out. It didn't matter which angle you took a photo, it was going to look like a magazine ad.
As for the car, well it's retro. By that I mean it's small, cute and reminds me of a 1950's toaster. I don't mean that in a bad way, small is always good when trying to find a parking space in Los Angeles! Plus, the gas mileage isn't bad either, 40 MPG. I'd say that's pretty good.
Expect to see these on the road in the Spring of 2014.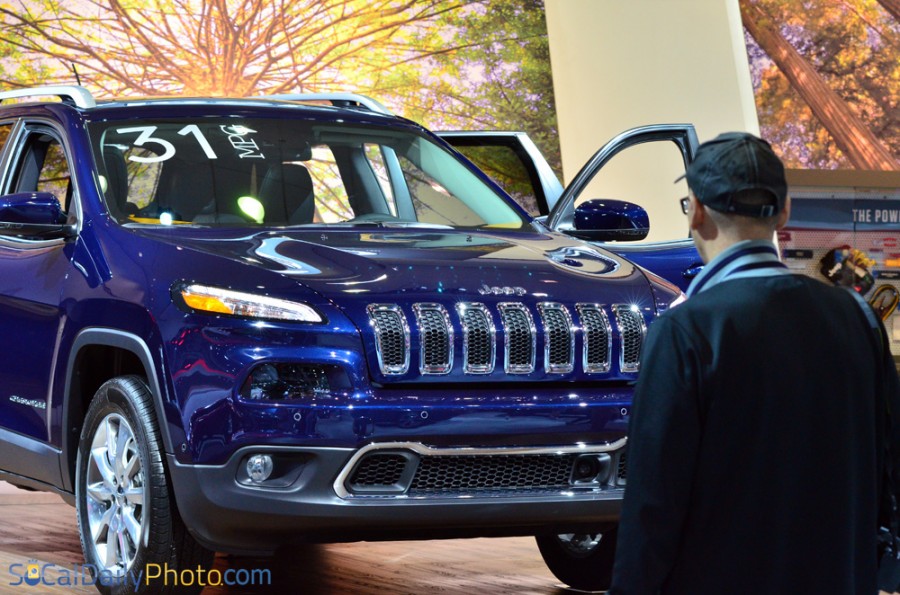 While I was taking the photo above, my friend Ignacio was observing the new Jeep Cherokee (right).
He had a puzzled look. Later saying that the new design made it look more as a crossover suv than a traditional Cherokee. And that it may appeal to a wider demographic, but some of the die hard Cherokee fans may not approve of this new redesign.
Seems like he was right, because Edmunds also called it a "small crossover SUV".
In the end we had a fun time at the 2013 LA Auto Show. I was accompanied by Ignacio and JC.  We beat the crowds, traffic and amusement park priced food, but overall it was worth it.
The 2013 LA Auto Show runs until through December 1, 2013.
Below is a video by Kelly Blue Book on the new Fiat 500, 1957 Edition. Continue reading 2014 Fiat 500 1957 Edition – 2013 LA Auto Show