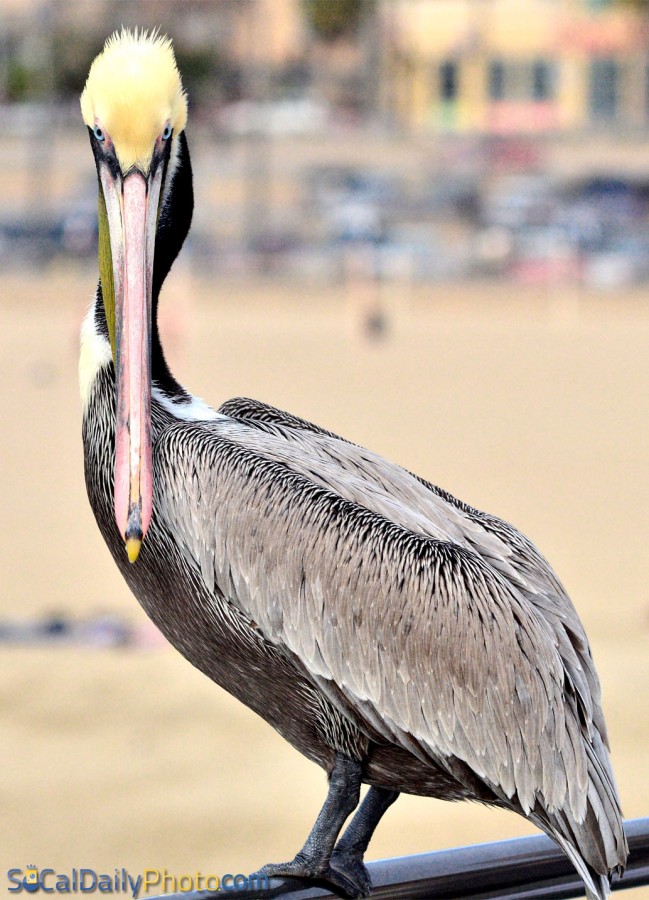 Brown Pelican Posing in Huntington Beach
While out for a short walk at the Huntington Beach Pier, I noticed a small crowd surrounding this large Brown Pelican. For the most part, the people were trying to pose with the bird. Watching them interact with the pelican was funny.
For example, this guy was trying to do the Karate Kid pose next to the bird, but instead the bird flew away and moved a few yards up along the pier. Needless to say the crowd was upset at him.
Having spent so much time on the HB Pier, I'm surprised I haven't seen a pelican snap or bite a person. Instead, it seems the birds are very aware of their surroundings and let you know when you get too close. The pelicans instantly snap their large beaks when people get near them.
These pelicans are at the HB all the time, I've seen them year round and each time they decide to land on the side of the rail, it's picture time with the tourists or locals. Here's one taken last summer during the U.S. Open of Surfing. Looks like these birds have a good life!
As for the photo above and you photography people, it was one of a series of shots (five in all) taken quickly. The camera (Nikon D7000) was set on continuous high shutter speed. However, I made an error, the ISO was incorrectly set to 1000 instead of 100 and that is why you see the "grain" on the photo. The aperture was set to f/7.1 and the shutter to 1/4000 sec.
I normally don't have the camera set to auto-iso, but I was doing some test shots using that feature earlier indoors and forgot to turn it off. This shot would normally be taken with about 1/1000 sec. and 100 ISO. But considering the error, the image turned out ok.