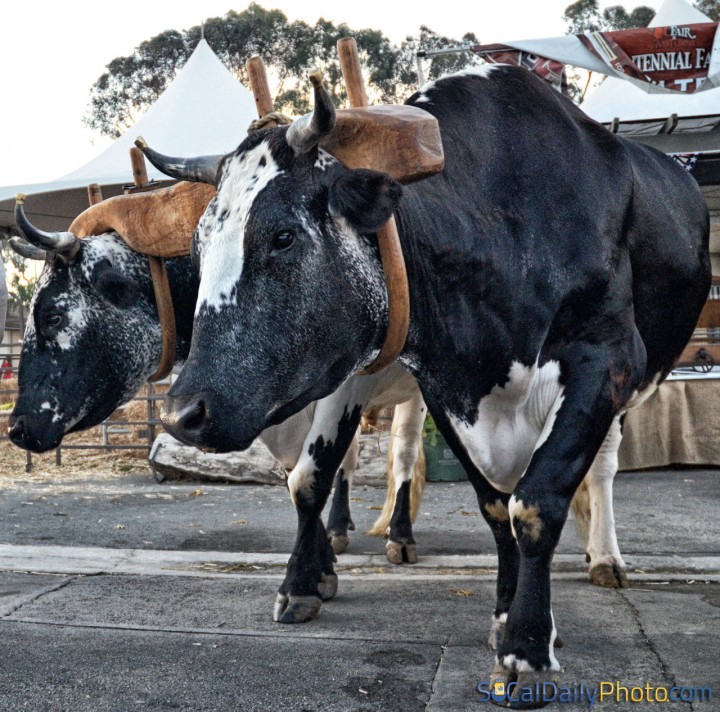 Oxen at the OC Fair
The oxen at the OC Fair are always popular with the visitors. These animals are big! The caretakers brought each ox out at a time into the open area.
They carefully placed the wooden harness on both of them and the crowd was allowed to get near them. They seemed very easily controlled.
Oxen
I'm no expert on oxen, so I headed over to Wikipedia and found out exactly why they are so easily controlled. Castration! Yikes.
These oxen were very tall, just as tall as their caretakers. I believe they normally have them in the big red barn at the entrance of the fair grounds, but during the fair they bring them to the back with the rest of the livestock.
Photographing the animals at the OC Fair
Each year my wife and I take a trip to the OC Fair, no we don't each the chocolate covered bacon or fried Twinkies. But we do enjoy walking around and looking at all the exhibits.
Plus, it's a great place to take pictures. I don't carry my full gear, only my Nikon DSLR and one simple lens.
In the past I've focused on the food or in one case the large sign at the Arts and Crafts exhibit.  But this year, I spent a little time photographing the animals. And one of the first I chose was the Oxen at the OC Fair.
For the photo above I got down a little low. I wanted my angle of view to be just below the oxen's eyes. Shooting slightly upwards is much better in this particular case. I'm 6ft tall, so if I shot it at my level, the animal would look big, but it's size would really be lost. So I quickly got low as they were moving the oxen and one of them looked straight into my camera. Almost as if he was posing!
Overall, we had a great time with the oxen at the OC Fair. I'll share more images from that day on a different article.