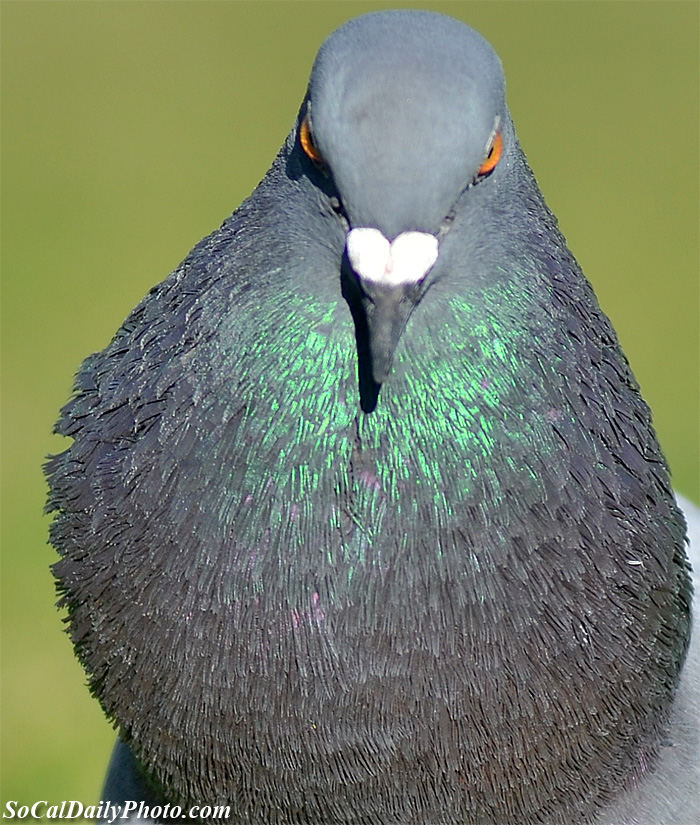 This pigeon didn't like me taking its picture!
Earlier today at the Rainbow Harbor Marina in Long Beach, I was surrounded by these common grey pigeons. Most people see them as a nuisance as they litter the areas with bird droppings. I noticed one with a particular "swagger" to him/her.
I waited a few minutes until it was facing me at the right moment and with the green grass in the background I snapped up a few quick photos. These birds are constantly moving their heads so it wasn't easy to shoot it.
However, this particular bird looked at me with a glare that could kill. It had an attitude and it almost seemed to charge me as I snapped the last image. Perhaps it was a little camera shy? Maybe I should ask the birds for permission before I take the picture! 🙂
The photo above is a tight crop, I wasn't sure which to use. Here is the other version of the pigeon in the grass. I shot it wide open at f/2.8, which was a mistake. In the larger version the body and legs are out of focus, this was why I opted for close up (even though the birds bill is also a little out of focus).
Shot with a Nikon D7000 and Nikon 80-200mm f/2.8D ED lens.