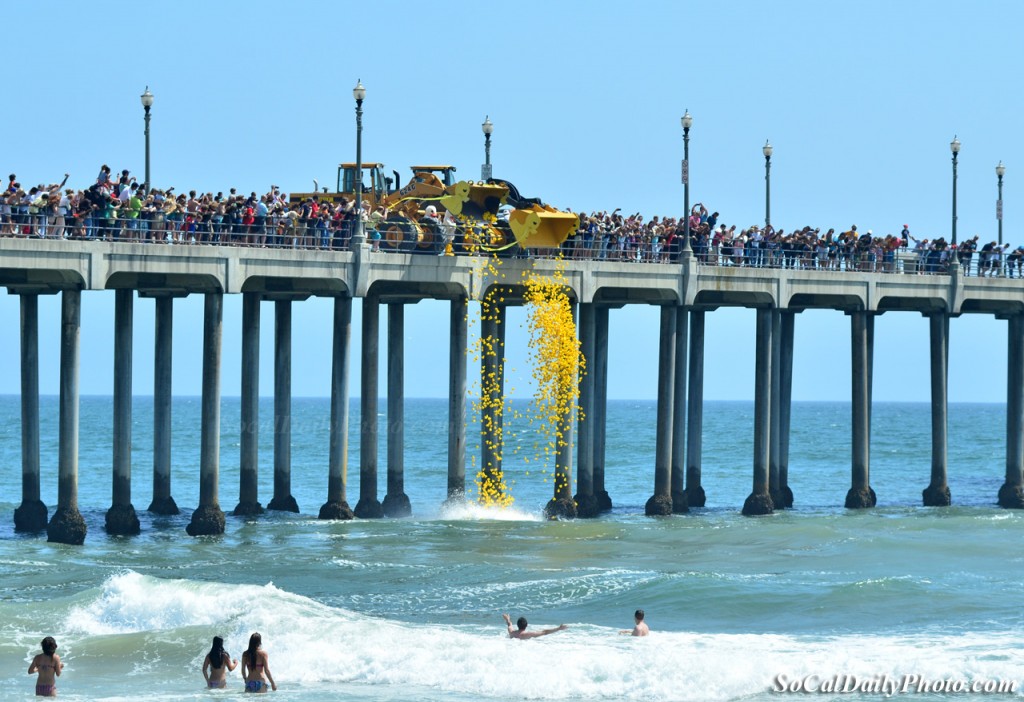 Rubber Ducks being dumped over the Huntington Beach Pier Saturday at the Duck-A-Thon Fundraiser
This is the second year I've attended the Duck-A-Thon fundraiser at the Huntington Beach pier. However, this time I arrived a little too late to purchase a duck. The cutoff time was 5 minutes or so before I got there, so no duck for me.
But I was there in time for the big dump of the rubber ducks into the side of the pier. That's really what everyone is there to see. The weather was nice, the skies were blue and it was a grand event. Unlike last years event, this time the young volunteers who pick up the ducks seemed to assemble down at the beach a little late.
In fact, when the ducks started to arrive at the beach, regular beach goers began to pick them up instead of the organizers. Since this was a fundraiser and prizes are awarded to the owners of the 1st to 75th duck to arrive on the shore, you can see how this can create a problem.
The "first" duck didn't float to the shore, instead a regular beach visitor ran out to the breaking waves and simply picked one up and ran back with it. One of the main Duck-A-Thon organizers stopped him from taking it away and that one became the "winner". I guess you can say the winner was almost ducknapped!
Either way, it was all in good fun and for a good cause. If you missed it this year, mark your calendar, it normally takes place around mid May of each year.