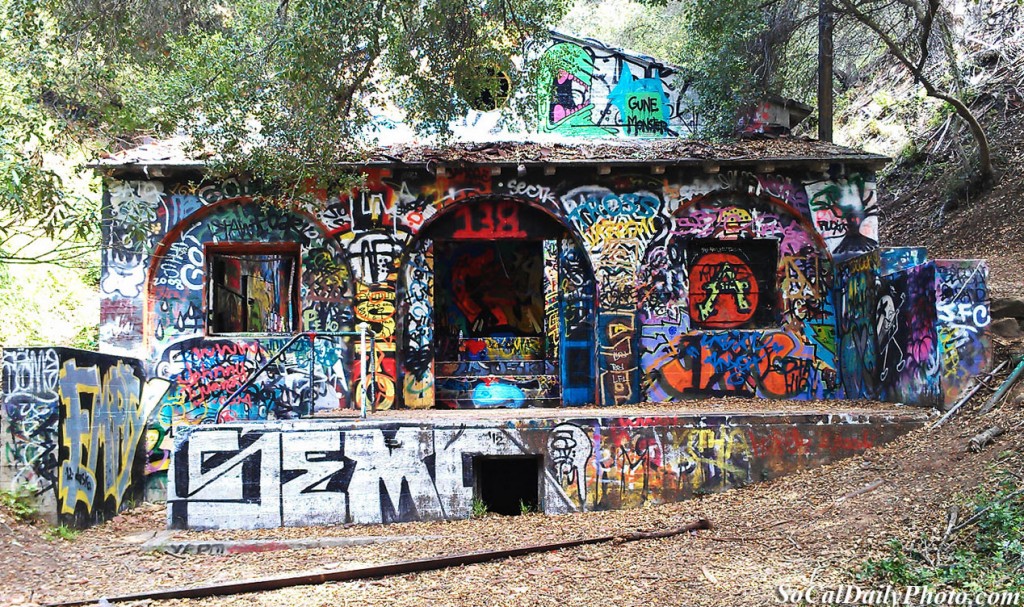 The Murphy Ranch – 1940's Nazi Compound at Rustic Canyon
What started out as a casual hike looking for the "500 stairs", turned into a find that led me into one of L.A.'s forgotten past, the 1930's Murphy's Nazi Compound Ranch.
As my wife and I walked up to a run down gate, I questioned whether we should continue in that direction. Then a group of Boy Scouts came from behind the gates and said "the interesting place is back there". We felt a little safer and continued down the trail.
We came up to a strange rusted iron building covered with graffiti. But one of the strangest buildings included the image above. Entirely made of concrete and covered with old and fresh graffiti. The area was riddled with trash, old and new. It's obvious that people come here often to "party" and who knows what else. The building was empty inside but we didn't stay long, just enough to take a few pictures.
At the time we didn't realize what this place was, until I got home and did some research, it was an American Nazi group that built this strange place.
Yup, American Nazi's led by a German named Herr Schmidt convinced the Murphy Ranch owners, Winona and Norman Stephens, to spend about $4 million for this mini Nazi hideout in the late 1930's. According to an article in the LA Times from 1990, the compound included a 395,000 concrete water tank and their own power station.
Apparently they had planned to build a large mansion but they ran out of money. The initial goal was to build a Nazi stronghold until German Nazi's would win the war and chaos would break out in the US, making this place some sort of "base". Nice to know things didn't work out that way. It was finally shut down on December 8, 1941 after the attack on Pearl Harbor, the Feds swooped in and arrested everyone.
A map to this place can be found here. I've included a few more images of the Murphy Ranch below.


In addition, here is a short video that The Travel Channel recorded a the Nazi Compound in LA.