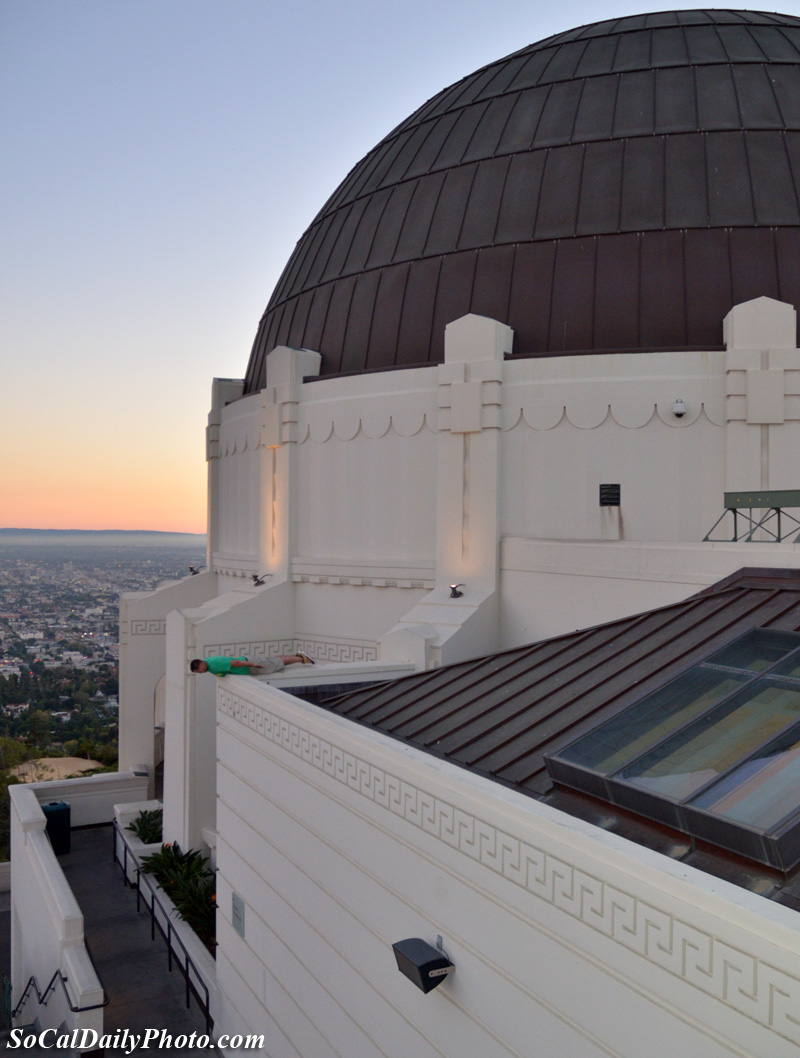 Planking at the Griffith Observatory at sunset.
Earlier today while visiting the Griffith Observatory with my wife, we noticed two guys setting up for a risky and very dangerous planking stunt. One was the "plankee" (?) and the other was setting up to take the photo. It required the guy to climb over a wall and down a roof while his friend took the image from my right (off the right side of the image, not shown).
I noticed the two setting up, so I quickly positioned myself for the shot. A security guard came just before he was going to jump over, so he waited. But as soon as he was gone, the stunt started. He jumped over the wall and ran over to the ledge. He "planked" for about five to eight seconds at the most. I managed to get five shots with my Nikon D7000 and on-camera flash. I'm assuming his friend also captured the moment with his camera.
Because there is a security (seen on the upper right side of the photo), the security guard quickly returned. The two men casually left the roof of the observatory and blended with the visitors. I walked over to the north side of the roof, facing the front of the observatory and the two men were casually walking away. Seemed like a risky but successful planking operation.
I don't know who these two men were, nor do I endorse EVER doing something like this at the Griffith Observatory, as any small slip could have easily turned this innocent stunt into a story on the 11 o'clock news!