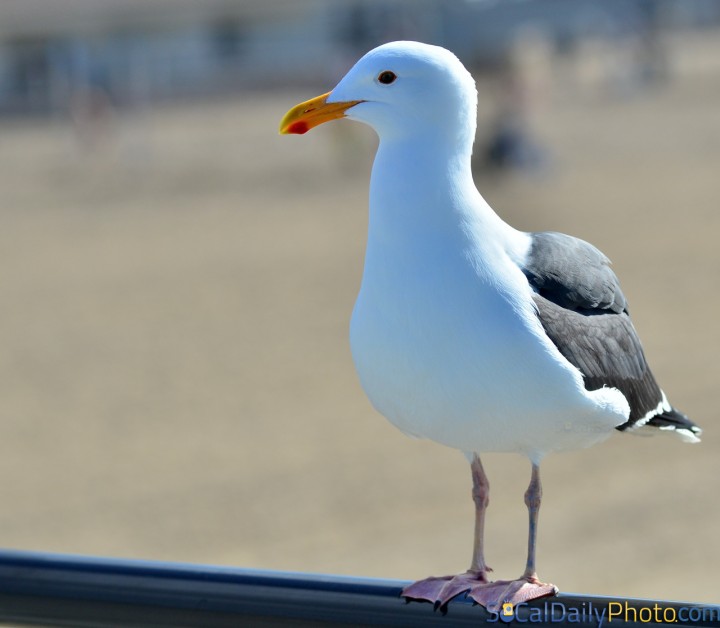 Seagull doing a little people watching at the Huntington Beach Pier
Seagulls are a dime a dozen in Huntington Beach, as are pelicans. Most would think they're out looking for food, which is probably true. But when they're not, it's all about keeping an eye on the people walking around.
Most people overlook them as they fly by or sit on a rail. Yet, I'm sure they are well aware of us. This one had his/her eye on me for a while. As far as seagulls go, this one looked pretty good, unlike one I shared two years ago. That one hopped around in one leg!
Although a few people do like the larger birds, as I shared earlier this year here and here.
Now for the photo specs. I shot this photo at f/5, 1/2000 sec, ISO-200 and a focal length of 120mm. I was using my Nikon D7000 and 80-200mm 2.8 AF-D lens. Some of you might wonder why I didn't shoot wide open at 2.8, well in this situation I really didn't need it. The background was so far away that at f/5 I was still able to blur it out. At 2.8 it's overkill.
Here's a tip, when shooting any type of bird in daylight, flying or standing still, use a high shutter speed. If you have a long lens and the subject is very far away then use a shutter speed at least 3x the focal length. I went much more than 3x, but that was only because I had enough available light to do so, otherwise 1/1000 of sec would have been ok.